Welcome Message from the Dean of the Faculty of Dentistry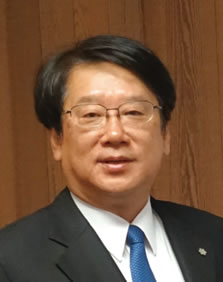 The Niigata University Faculty of Dentistry was established in 1965 as the third national dental school in Niigata City, which has a long coast extending north and south, is surrounded by mountains, and is rich in natural beauty with four distinct seasons. This abundant nature is represented in its produce such as Koshihikari rice and seafood which has resulted in a rich culinary culture. The Niigata University Faculty of Dentistry considers oral health as the "restoration and maintenance of the functions necessary for living as a person," such as "eating," "swallowing," "speaking," and "making facial expressions."
In comparison with the times when the Niigata University Faculty of Dentistry was established, the social situation has dramatically changed: Japan has become a super-aging society, so that dentistry has also been required to change from a focus on healthy persons to a focus on elderly persons, and national policy now promotes the prolonging of a healthy life expectancy. In preparation for the arrival of this super-aging society, the Niigata University Faculty of Dentistry established the first ever four-year School of Oral Health and Welfare in 2004, in addition to the six-year program for dentists (School of Dentistry). As we enter a super-aging society, the School of Oral Health and Welfare aims to train professionals who can comprehensively manage health, medical care, and welfare from the viewpoint of "eating" and maintaining and improving oral functions–for which there is an increasing need. We offer a curriculum in which graduates can acquire the qualifications for two national licensing examinations (i.e., dental hygienist and social worker).
In dental education, there is a strong focus on technical education such as cavity preparation, tooth extraction, and denture making, and education for the knowledge and attitudes supporting these techniques is indispensable. We have been working on reforming the educational curriculum so that the three domains (i.e., knowledge [cognition domain], techniques [psychomotor domain], attitude [affective domain]) can be effectively and integrally learned, all while striving to enhance clinical practical training to conduct actual patient care. In order to improve such an education, we have acquired various competitive external funds and are promoting education improvement from the bachelor's degree program to the graduate school program. Moreover, major renovation work for the Faculty of Dentistry building was completed in 2015; as a result of the renewal/introduction of educational and research instruments/facilities, we have become the most advanced dental education and research institution in Japan, both in terms of software and hardware. In addition, the program was recognized by the Ministry of Education, Culture, Sports, Science and Technology in 2013 as a model of human resource development both domestically and internationally for Promoting Inter-University Collaborative Education, including the implementation of PBL tutorials, integrated model practice, and practical clinical practice.
The Courses for Oral Life Science and Course for Oral Health and Welfare have been established in the Graduate School of Medical and Dental Sciences, and we are promoting interdisciplinary research integrating health, medical care, and welfare. In addition, we are noted for such programs as "initiatives for attractive education in graduate schools," "program for enhancing systematic education in graduate schools," and "institutional program for young researcher overseas visits," promoting the improvement of graduate school education, thereby fostering increasing numbers of international researchers and advanced medical professionals. Our research goals are as follows: first, research on oral cavity morphology, function, treatment methods concerning eating/swallowing mechanisms and related disorders (eating/swallowing research); second, research on the maxillofacial and oral cavity normal state; pathology, and reconstruction for maintenance and recovery of oral function (oral environment study); third, exploratory research leading to cutting-edge dentistry (regenerative engineering research); fourth, research on the promotion of regional and international oral health care welfare (oral health and welfare research). In addition, basic and clinical research aimed at improving quality of life, response to sick/elderly persons, and practice of dental regenerative medicine comprise research strengths in the Faculty of Dentistry (Redefining Mission, see here). These research results have been widely disseminated both domestically and internationally, and the results are supported by the number and rate of adopted scientific research grant projects [KAKENHI].
The Niigata University Faculty of Dentistry aims to develop human resources who can play an active part in the global society through actively encouraging and supporting undergraduate students to study abroad, accepting short-term international students, and striving to develop human resources with an international perspective. The Niigata University Faculty of Dentistry will continue to train comprehensive dental staff from the viewpoint of the oral cavity and eating and will provide human resources who can contribute to society. Thus, the Niigata University Faculty of Dentistry constantly strives to "realize the health and quality of life for all persons."
Prof. Takeyasu Maeda, DDS, PhD