Comments from International Students
My Life and Studies in Niigata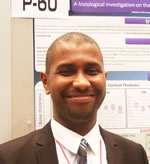 Mubarak Osman Mahgoub Suliman, BDS, DID, MFDRCSI
(4th year student at Niigata University Graduate School of Medical and Dental Sciences)
I graduated from school of dentistry in 2010 from the Republic of Sudan. Currently I am a final year student at the Course for Oral Life Science, and I am working at my research project at the Division of Bio-prosthodontics under the supervision of Professor Katsumi Uoshima.
Interestingly, few years ago after I graduated from the dental school I have never thought that one day I will study in Japan or even visit Japan for any other reason. But, as they say, life is full of surprises and you don't know what the future hides for you. In the late 2012, I heard about the scholarship offered by the Japanese government from a friend who didn't succeed in obtaining it, so after that I decided to apply; hence, I did my best to write a competitive research proposal along 6 months of preparations until the application time and after passing a filtration process I succeeded in winning this honored scholarship. Just at that moment the real challenge started.
The idea of coming to Japan was completely exceptional, since I had a background that Japan is an absolutely different place from the other places in the world. Once I arrived, I had an overwhelming sensation that everything around me was different from what I had imagined, but luckily in a good way. Although I had some moments of cultural shock, that did not stop me from enjoying my new adventure.
I came to Niigata as I got accepted into the PhD program at Niigata University and I am grateful to Professor Uoshima for accepting to supervise my research project. In my opinion Niigata city is one of the best places that you can live or study in Japan, because the people here have high level of politeness and the Japanese manners are in the most beautiful shades. Also, what makes this city special to me is that it is the birth place of my first baby girl "HAYA CHAN". I keep telling my family a joke that my baby is "MADE IN JAPAN" – in other words, high quality. This is something that really makes me proud. Not only that, but also sharing the good news of my new born with my teachers, colleagues and friends at Niigata University was a pleasant experience and I really felt they are part of my family.
Before coming to Niigata, I didn't have a good knowledge of experimental research, but in no time, I learned a lot from all the department members and I believe that by the end of my journey here I will be able to deliver and convey this knowledge back home for the benefit of my country.
My research project is related to collagen quality as the main component of bone matrix. I am working on two topics; first, how collagen quality affects the process of osseointegration and second, how collagen quality affects bone graft surgery outcome. So far, I presented my work in several national and international conferences and I hope to publish my work soon.
It is a great honor to be one of the team members at the Division of Bio-prosthodontics and to have a chance to get such an exceptional experience that will stick to my memory my entire life – by now I have too many stories to tell my family, friends and colleagues back home.
My Journey in Japan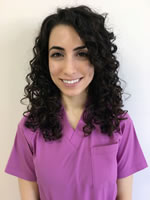 Farah Al-Omari, DDS
(3rd year student at Niigata University Graduate School of Medical and Dental Sciences)
I grew up in Jordan, a small Middle Eastern country. Since I was in high school, I wanted to visit Japan. Japanese culture, food, technology, anime has always fascinated me. Soon then, I entered dental school at the University of Jordan, and my life was completely shifted. All I cared about was my lectures, my clinics, patients, lab works, exams… I almost forgot my passion toward Japan. In my fourth year, I took a class which was given by a Jordanian professor who was a former PhD student in the department of Bio-prosthodontics at Niigata University 17 years ago. I remember saying to him "I want to do my PhD, and I want to do it in Japan, and I want you to help me". I was lucky enough to have his guidance and presence in my life. When I was in my senior year, he sent me the application of Japanese Government Monbukagakusho: MEXT Scholarship Program. It was the start of a new chapter in my life.
I was blessed to be accepted by MEXT and I was even more blessed to be accepted in the same department of Bio-prosthodontics, here at Niigata University. In no time, I found myself on the plane heading to Japan. I only realized it, when I looked through the Shinkansen window, "ohhhhh, I'm really in Japan!!!!!" I said to myself. I was terrified, it was my first time to be alone without my family. Yet meeting my department professor, my supervisor, and some of the department staff over dinner on the day of my arrival, somehow reassured me again. They were nice, generous and made me feel welcomed.
At first, I had to take some Japanese language classes at Igarashi campus. I had the chance to meet a lot of exchange students whom I enjoyed my time with. Few months later, I joined the Bio-prosthodontics department. By far, I can say this is the most important step I took in my life and I am thankful for it every day. Being around those great dentists/researchers, being able to learn from their experiences, work under their supervision, and being part of their department, is a once-in-a life-chance. Their warm hearts and kindness are helping me to cope with my feeling of loneliness and home sickness.
For so many reasons, Japan is a unique and mysterious country and for the rest of the world, we almost know nothing about it. Since I came, I have tried to explore the culture. I start taking Japanese traditional flower arrangement (Ikebana) classes every month and by now I have finished the fourth level (Okuden) and soon will start the fifth level. I have learned that it is more than an arrangement. It is a disciplined art form in which the arrangement is a living thing where nature and humanity are brought together. It is steeped in the philosophy of developing a closeness with nature. Also, it demonstrates respect for the natural world by following the normal seasons in using and joining the flowers together.
In my period of stay, I had the chance to visit many amazing places, museums, and cities. I have enjoyed snow and winter at Shirakawago in Gifu prefecture. It is a world heritage site where historic farmhouses shine during the winter light-up. It was magical! Also, I have tried skiing for the first time in my life at Urabandai mountain. I enjoyed the cherry blossom at Hakusan park, the new green (Shinryoku) in Fukushima prefecture, the fireworks in Nagaoka city during summer with my department, the red leaves in autumn at the Yahiko mountain. I should not forget all the remarkable places inside Niigata city like the Northern Cultural museum, Minato Inari Shrine, the Old Saito Residence, Niigata Rice Cracker Museum, and many others. I also found an endless pleasure in soaking myself in onsen (Japanese hot spring) water. I always try to find the chance or excuse to go. Japanese food is another pleasure I discovered, especially Soba noodle. Their cuisine is so delicious, various and healthy. No wonder that Japanese have the longest life span in the world.
In my opinion, if we want to divide countries, there would be developed countries, developing countries, and there would be JAPAN! Here are the most surprising things I found in Japan: There is no garbage bin in the streets, yet the streets are so clean, you can find so many vending machines, the taxi door opens automatically, due to health concern, wearing face masks is completely normal, people do not eat while waking in public places, every restaurant has a plastic menu for their food, people are so quiet in public transportations, on valentine day, girls give presents to their partners (!), convenient stores are very convenient, there is an official holiday almost every month, everything is punctual here, buses, trains, even humans. Stamp (hanko) is still usable. To enter onsen water, you should be naked! Also, seasonal changes are a great deal, there is cherry blossom viewing (Hanami), red leaves viewing (Momiji) and many others. Japanese people love festivals (matsuri); you can join many of them, especially during summer time. The food is delicious, nature is gorgeous, temples and shrines are majestic, cities are safe, and people are polite. I just love being in Japan.
Right now, I am in my third year of PhD course and recently I have received an "Excellence Poster Reward" for my research work presented at the 127th Scientific Meeting of the Japan Prosthodontic Society hold in Okayama in June 2018. I should be thankful to our department Chair, Professor Katsumi Uoshima, my supervisor, Dr. Masako Nagasawa, my professor in Jordan, Professor Ameen Khraisat and to every member in my department for the opportunity, and their guidance.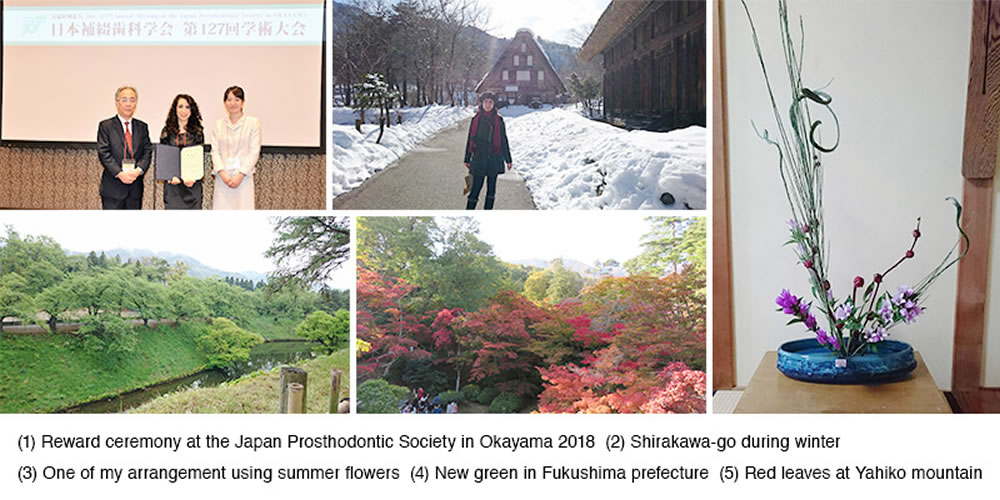 Niigata Exchange Program Report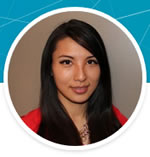 Lucy Lu, UBC Dental School (Canada)
My exchange experience at Niigata University Faculty of Dentistry was an overwhelmingly positive experience one. My compliments go to the organizers and faculty and student participants, who have crafted a curriculum that has allowed me to experience a brief but informative slice of Japanese dental education and academia. Of special note are the much appreciated oral maxillofacial surgery observation sessions, as well as the cutting edge Simodont machines, which demonstrated the interplay between dentistry and advanced robotics. Importantly, discourse on such as oral health in the geriatric population, and dysphagia shone a light on important global oral and dental issues that our countries have in common, and for which management will play a larger role in future years as our populations age. Lastly, I gained insight into the rigorous, structured, and sometimes dental education system and work environment of Japanese dental students and dentists, and was able to gain increased perspective (and appreciation) for the common elements and differences in education between our two countries.
It's my hope that these connections that have been forged will be nutured via future possibility of collaborative research, discourse in dental topics, and continued friendship with the wonderful Japanese and international colleagues I have met in this Niigata exchange trip.
With kindest regards,
Lucy Lu
Academic-opportunities for viewing surgical, culturally relevant research, areas of cutting edge dental care common to Japan and Canada, forging new contacts Cultural-sightseeing, work and study environment, cultural appreciation
Niigata Exchange Program Report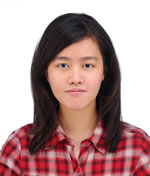 Wen Lee, National Yang-Ming University (Taiwan, R.O.C.)
Visiting the Faculty of Dentistry at Niigata University provided me with different views on the future possibilities of dental work.
First day, we used the virtual reality system to practice our restorative technique. In my opinion, it is an innovative way to improve our hand movement and enhance our stability of holding a handpiece. Furthermore, with the help of multiple modules in the system, students can experience all kinds of situations they may face in their future career.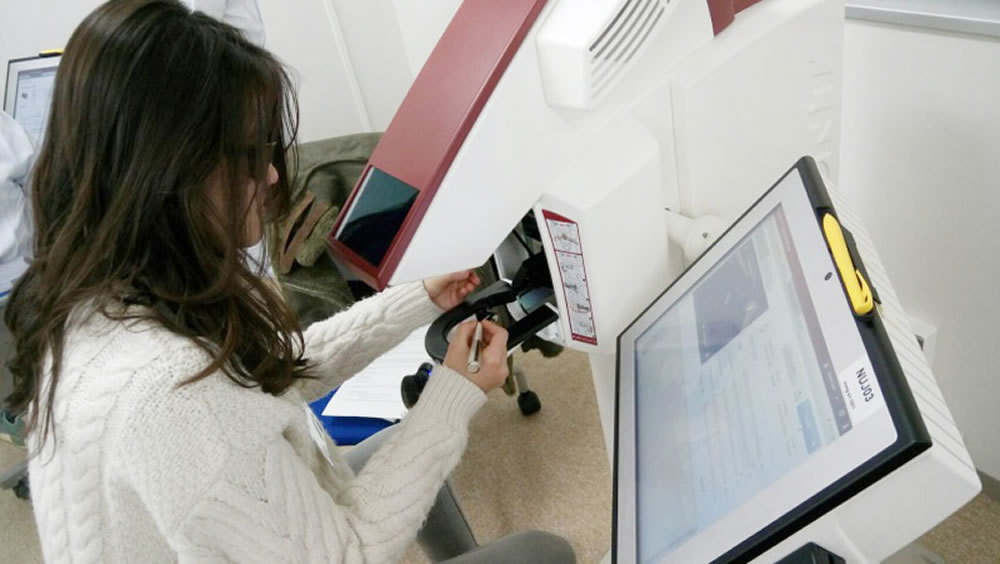 Also, the classes provided at Niigata University, such as the lecture on oral health, are quite different from those in Taiwan. In Japan, to deal with the challenge of an aged society, they focus on oral disease, masticatory function and nutrition of the elderly. Also, the elderly can do several physical tests such as hand grip, stepping, leg strength, one leg standing to clarify their physical data. Furthermore, the prevention and control of oral diseases have been done strictly in Japan. I'm especially stunned at the prevention of child's oral diseases, realizing that without doubt children in Taiwan have a more severe oral condition.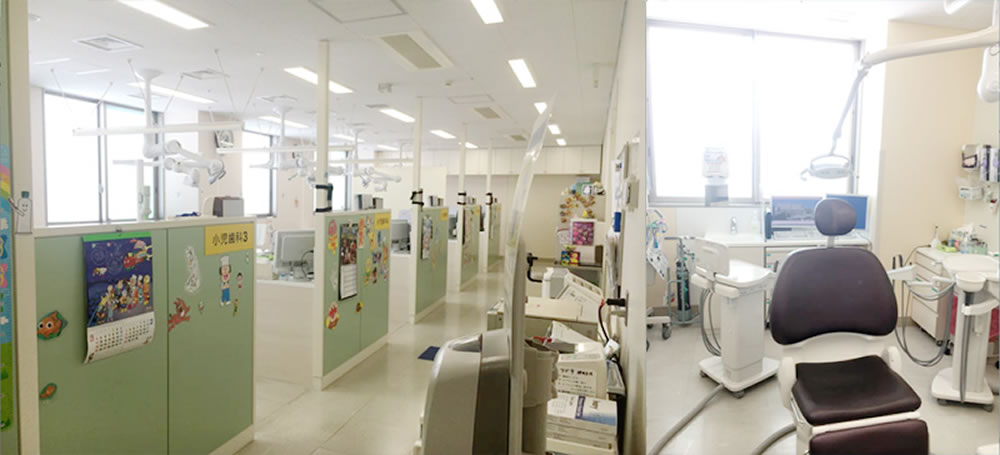 Last but not least, the research that is done in Niigata also impressed me a lot. In the dental pharmacology class, we've learned that ROCK inhibitor can improve orthodontic treatment. And in research on tissue engineering of oral mucosa, we have learned that our own cells have the ability to differentiate and repair our harmed tissue. Attending the lectures provided by the professors in Niigata, I also appreciate that in Japan, every data has been made into graph to help clarify the information. Furthermore, I am impressed that Japanese tend to use computers to monitor their student's dental ability and even graph the data and compare to the output of dentists, such as how much force we should apply during probing or prosthesis setting. I really appreciated the idea of using scientific methods to improve student's abilities.