Educational Activities of Faculty of Dentistry
Department of Dentistry
The Department of Dentistry of the Faculty of Dentistry cultivates highly capable and sensitive dentists who can implement holistic medicine by combining deep professional knowledge and skills in the field of dentistry with knowledge in related medical fields. The Department also aims to produce dentists in leadership positions (researchers and educators) who can contribute to the development of dental medicine and specialists who can contribute to community dental healthcare.
At the Department of Dentistry computer literacy and foreign language education are being enhanced to respond to modern needs such as computerization and globalization. In addition, to cultivate the ability to solve problems while collaborating appropriately with parties involved to tackle new issues in our rapidly-changing modern society, small-group, problem-based learning (PBL) has been introduced. Moreover, highly dense and balanced lectures and practical training are being implemented for effective learning through the integration and reorganization of specialized subjects. In particular, efforts are being put into clinical training. For example, an early clinical training is introduced immediately after entry to the university to improve students' motivation for dental medicine. In addition, a streamlined basic and clinical training educational system has been introduced to cultivate the ability to comprehensively treat oral diseases. From the second half of the 5th year, clinical training involves students' direct participation in dental care that is delivered to actual patients.
Department of Dentistry Curriculum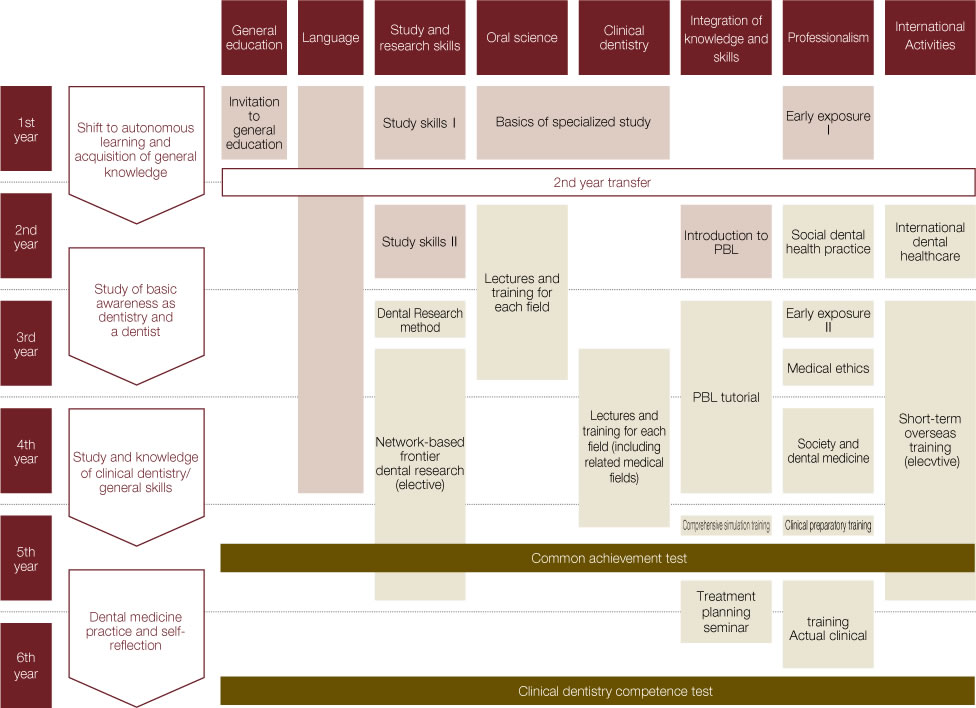 Education at the Department of Dentistry
In their first year, students attend classes for general education and academic study methods together with students from other faculties at the Ikarashi Campus. They also observe actual dental treatment at the Medical and Dental Hospital.
From the 2nd year, dental education is delivered at the Asahimachi Campus and consists of specialized subjects, starting with biology, anatomy, physiology, and bio-engineering, which will form the base for the further training in oral health sciences. In addition, students complete an advanced course in academic study methods and "introduction to PBL", which prepares them for active learning.
In the 3rd and 4th years, specialized clinical subjects designed by course coordinators are delivered using various instruction methods, such as lectures and PBL. Students also receive basic clinical training, such as model training in small groups and mannequin training using computer-simulation. In addition, students study dentistry-related medical subjects and general health care. The curriculum also addresses the students' willingness and interest in further studies by providing elective courses, such as network-based frontier dental research and short-term overseas training.
From May, the 5th year students start clinical preparatory training, and from November, the actual clinical training of approximately one year begins. In actual clinical training, students are directly involved in dental care of actual patients under the supervision of an instructor, so that they can comprehensively acquire basic knowledge, skills and professional attitude required for dentists.
The curriculum is routinely revised and improved in accordance with the results of students' evaluations of each class (content and instruction methods), as well as the progress of science and changes of the social environment.