Niigata University Medical and Dental Hospital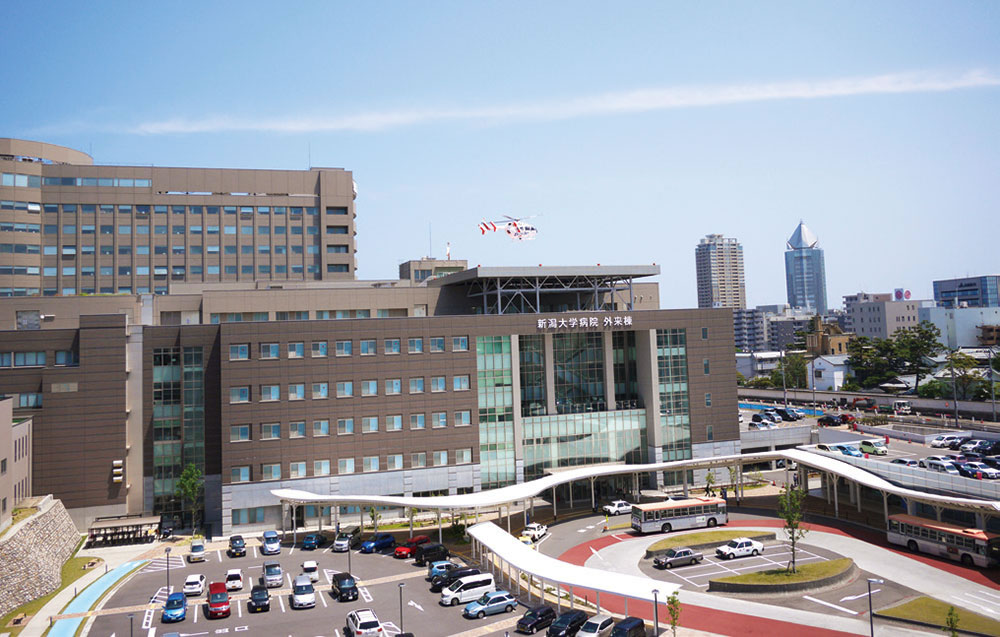 This is the only Medical and Dental Hospital attached to a National Corporation University on the Japan Sea Coast, which places it in a key position in the circumferential area of the Japan Sea. There are almost 100 teaching staffs and even more residents and graduate students in the hospital, where they engage in dental treatments and in the teaching of undergraduate students.
Clinical Divisions-Clinical and Laboratory Facilities
Oral Surgery, Radiology and Anesthesia
Oral Reconstructive Surgery / Oral and Maxillofacial Surgery
Tooth extraction and/or extraction of impacted tooth on patients with systemic disease are most prevalent surgical procedures, furthermore, it is also very important for oral surgeons to diagnose and manage patients with various kinds of odontogenic and /or non-odontogenic diseases in the oral and maxillofacial region such as malformations, deformitis, benign and malignant tumors, traumas, infections, cysts, blood diseases and so forth, including diseases of the temporomandibular joints, oral mucosa, salivary glands and peripheral nerve.
Dental and Oral Radiology
Diagnostic procedures are performed with plain X-ray images (including dental, panoramic, cephalometric, etc.), computed tomography, magnetic resonance imaging, and ultrasonography in the diagnosis of diverse diseases in the oral and maxillofacial region.
Dental cone-beam CT provides the high resolution images with an isotropic voxel data and makes it possible to evaluate the fine hard tissue details with lower radiation dose than whole-body CT scanners. This equipment is utilized for various dental practices including the dental implant treatment.
Ultrasonography system provides the tissue elasticity images with high resolution intraoral probe and contributes to accurate diagnosis of the soft tissue lesions involving the salivary glands, lymph nodes, oral mucosa and masticatory systems.
Periodic oral management is provided in order to improve the quality of life of head and neck cancer patients with radiotherapy. Preventing and managing oral complications are performed before, during, and after radiotherapy.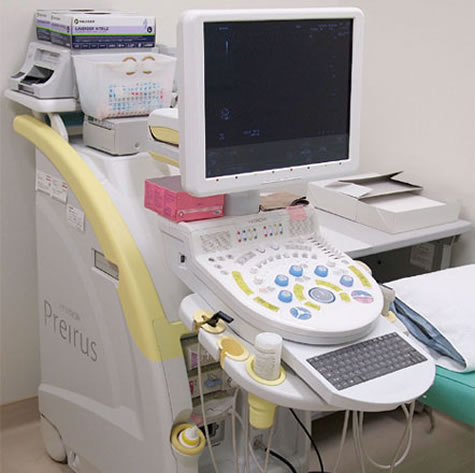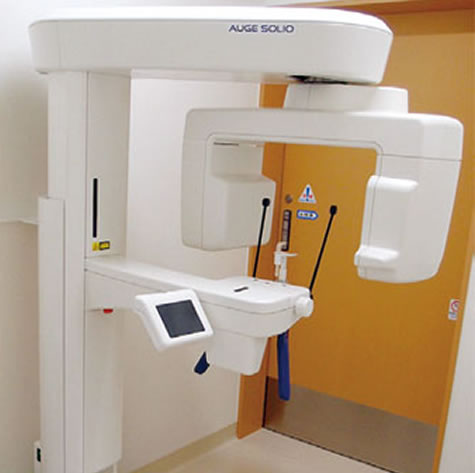 Dental Anesthesia
The Department of Dental Anesthesiology conducts general anesthetic management during oral and maxillofacial surgery in the operating room. In the outpatient department, management of patients with any systemic diseases and with palsy and chronic pain in the orofacial area are undertaken. Emergency care is provided for medical emergency cases during dental treatment at the outward patient department.
Orthodontics and Pedodontics
Pediatric Dentistry and Special Needs Dentistry
For child patients with or without systemic diseases, we aim at directing sound growth of the oral and maxillofacial area. Preventive care and treatment of dental caries, treatment of traumatized teeth, surgical treatment and traction for eruption disturbance of teeth, and occlusal guidance are performed.
For special needs patients having difficulty in general dental treatment, we recommend regular dental checkup for adjusting to dental chair and preventive care. If they need dental treatment, we take a positive approach for less stress by using intravenous sedation or general anesthesia according to the degree and kind of special needs.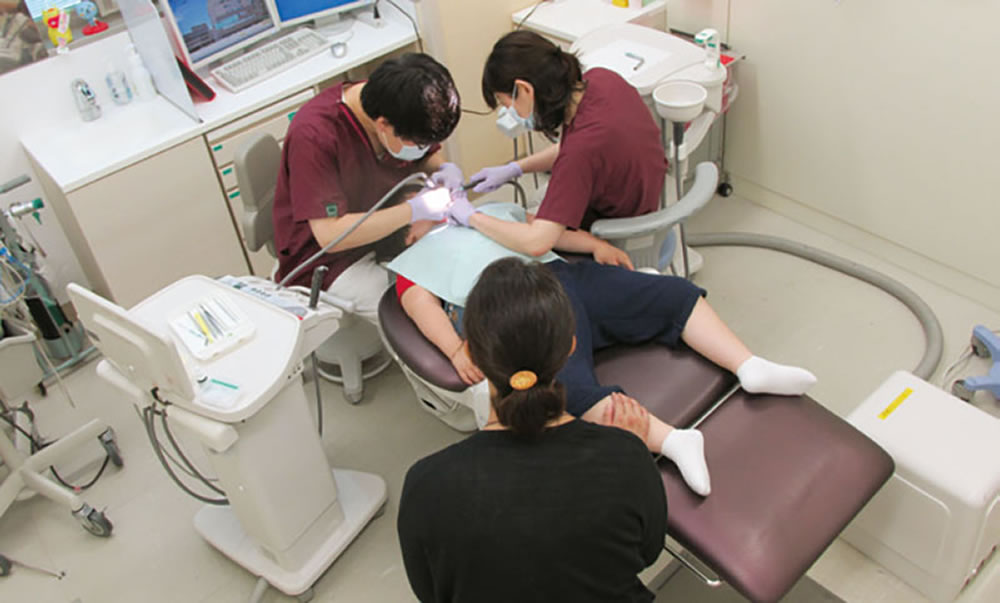 Orthodontics
Irregularities of the teeth and improper contract between the upper and lower dental arches are called malocclusion or abnormal occlusion. The following disorders may be induced by the various types of malocclusion: Decline of the masticatory function, speech problems, asymmetric growth of jaws, dental caries, periodontal diseases, tempomomandibular disorder, dental trauma, psychosocial disorders, esthetic impairment, difficulties in the treatment of teeth. The purpose of orthodontic treatment is to prevent and eliminate these disorders caused by malocclusion.
Guidance of tooth eruption and facial growth, the establishment of proper occlusion in the permanent dentition, preprosthetic tooth movement and perio-orthodontic treatment are included in orthodontic treatment throughout life.
Orthodontic treatment will provide patients with the best balance and harmony of the facial lines, posttreatment stability of dental arches, healthy oral tissues and efficient chewing mechanism. Adult orthodontic patients seeking esthetic recovery have been tremendously increasing.
Orthodontic department joins the team approach for patients with cleft lip and palate, and jaw deformities.
Preventive and Conservative Dentistry
Preventive Dentistry
Oral disease prevention, oral health instructions and control suited for each generation, infants to the aged, are essential to maintain physical and mental health throughout life. The Preventive Dentistry Ward offers preventive care not only to non-sufferers of oral diseases, but also to those who have completed their dental treatment.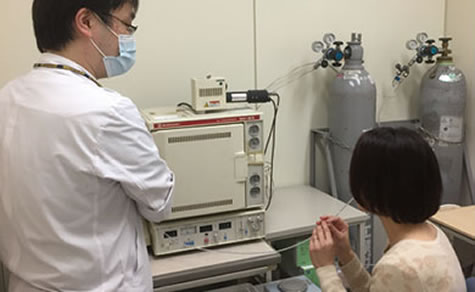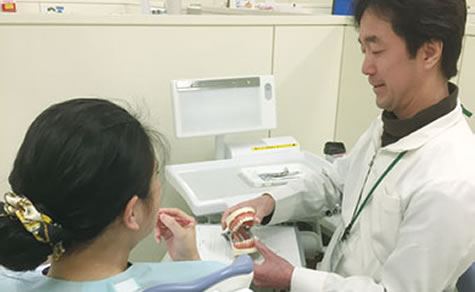 Periodontics
Periodontal diseases (Periodontitis) are polymicrobial immune-inflammatory infectious diseases, which can lead to the destruction of periodontal ligaments and adjacent supportive alveolar bone. Our department provides an effective clinical management of periodontitis based on newly developed diagnostic procedures and novel treatment/regenerative strategies as below.
Evaluation of susceptibility for periodontitis by genetic and epigenetic risk assessment
Periodontal regenerative therapy using grafting materials and growth factors
Multidisciplinary treatments including orthodontics, endodontics, prosthodontics, and oral surgery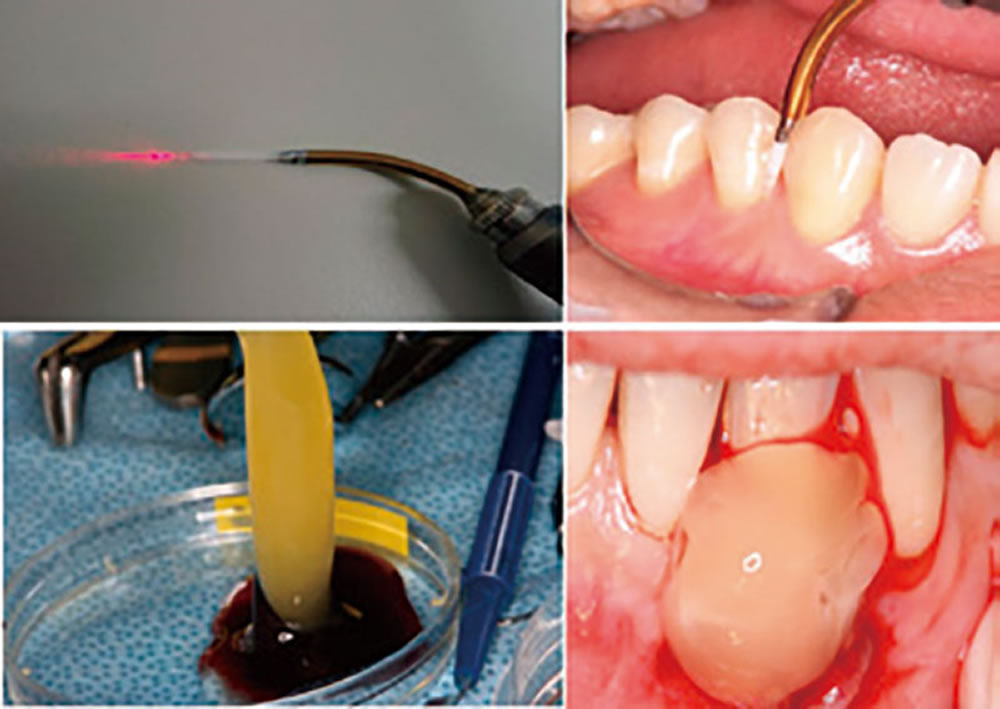 Operative Dentistry and Endodontics
Dental caries is still a major cause of tooth loss. This clinic deals with the treatment of dental caries and its sequelae, i.e., diseases of the dental pulp and periradicular tissues, aiming at the improvement in the quality of life by maintaining the health of the teeth and supporting structures. We offer specialty services including micro-endodontic therapy and esthetic restorative treatment.
Prosthodontics and Oral Function
Fixed Prosthodontics
Our department provides clinical management for oral implants, TMD and metal allergy in addition to general prosthetics such as crowns, bridges, partial or complete dentures, etc.
Removable Prosthodontics
The comprehensive prosthodontic treatment including fixed/removable appliances and implant is provided to reconstruct occlusion and rehabilitate oral function. Especially for edentulous patients, complete denture treatment using BPS system can be applied. We also treat with maxillofacial prostheses for maxillofacial defects and appliances for temporomandiblar disorders. The stomatognatic examinations, i.e., analysis of jaw movement, electromyogram, masticatory performance, and tongue pressure, are performed for evaluating of dysfunction and the prosthodontic treatment outcome.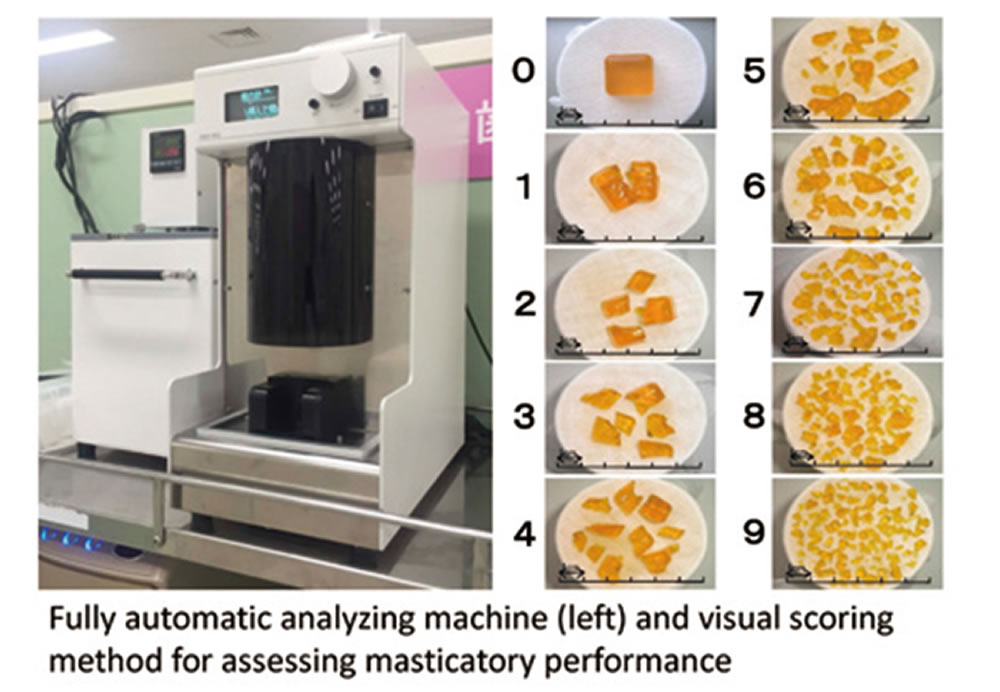 Oral Rehabilitation
Dental treatment and oral health care for elderly patients with any physical difficulties due to systemic disease are undertaken. Diagnosis and rehabilitation approach for dysphagia, dysgeusia and dry mouth are also performed.
Clinical and Laboratory Facilities
General Dentistry and Clinical Education Unit
Manages the clinical internship and the post-graduate clinical training. Dental students and trainees practice the comprehensive dental treatments with the supervision of instructor dentists. And the staff also cures the patients. This unit has another task to consult specialists for new patients by giving them medical interview.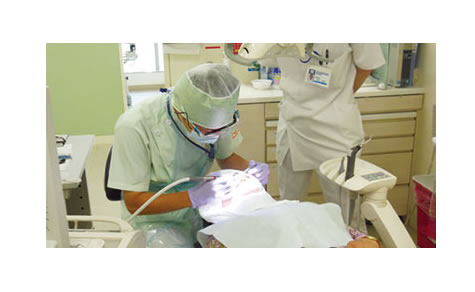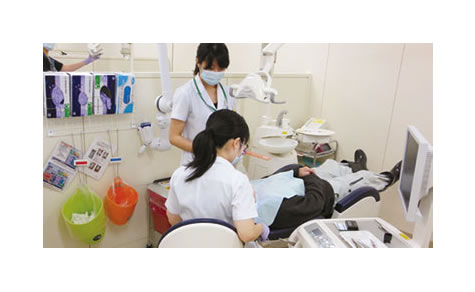 Temporomandibular Joint Clinic
Our clinic deals with the management of temoromandibular joint diseases and related occlusal dysfunction by team approach of several specialists in oral surgery, prosthodontics, orthodontics, oral radiology, and pain clinic. Temporomandibular joint diseases also include patients with congenital problem, fracture, inflammation, tumor and temporomandibular arthrosis. In addition, the treatment of the patients with bruxism and the prevention of athletic injury by sports mouthguard are also included in our field of specialty.
Oral Implant Clinic
Oral implant clinic was established on April 1 st, 2006
Based on the high biocompatibility of the titanium dental implants and the establishment of a highly predictable surgical protocol, many clinical studies have shown the validity of the implant treatment. In our hospital, we are trying to improve the patients' QOL using advanced techniques such as transplantation of cultured cells even in highly complicated cases.

Dysphagia Rehabilitation Unit
A professional clinic has opened to treat dysphagic patients, who have difficulty in swallowing, caused by stroke, neurological diseases such as Parkinson's disease, post operation of head and neck cancer or congenital disease. We provide those patients swallowing exercise, a guidance in adjustment of food property and a posture, and improved environment of eating following objective diagnosis and evaluations.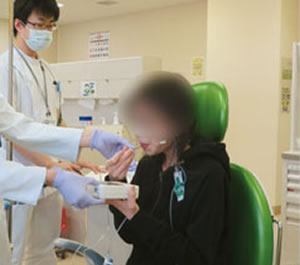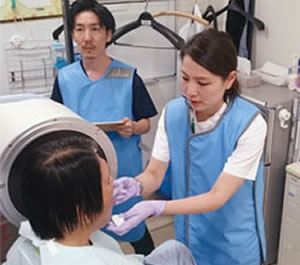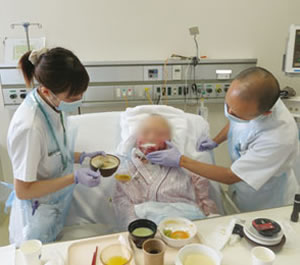 Speech Clinic
Diagnosis and treatment of prevalent speech disorders in children such as cleft palate speech, functional articulation disorder, stuttering, delayed speech development are undertaken.
Surgical Pathology Section
Pathological examination is essential for clinical dentistry to make final diagnosis and plan treatment. In this section, oral pathologists including board certificated ones provide accurate and prompt pathological diagnostic services. Our service covers surgical pathology for biopsy and surgical materials, cytology, and frozen section diagnosis during surgery. The section performs autopsies on patients who die at this hospital. Oral pathologists are also responsible to explain to patients their pathological conditions, in addition to dentists. We work on contributing to "dentistry based on scientific grounds" every day.
We are in charge of the education for the dental faculty students to bring up "the dentist who can order the pathological examination".
Clinic for Oral Oncology
To realize precise and optimum treatment for various kinds of tumors of the oral and maxillofacial region, we provide the team approach by dental and medical specialists in the Niigata University Medical and Dental Hospital. Systemic diagnosis by CT, MRI, PET-CT and US images as well as pathological tissue analysis improves the accuracy for discriminating cancers and benign tumors in a determined diagnosis. Based on the diagnosis, we prepare an optimum option or a combination of treatment modalities: surgery, radiation therapy, chemotherapy, molecular-targeting therapy, immunotherapy. The goal of our therapeutic management is not only to control the tumors but also to restore the maxillofacial function such as speech, occlusion and swallowing after operation, and to improve the quality of life.
Clinic for Snoring (Sleep Breathing Disorder)
The sleep breathing disorder refers to various breathing disorder represented by sleep apnea syndrome, main symptoms were snoring and apnea during sleep. It is recognized to induce brain and heart trouble by the continuation of the hypoxia state with apnea, and it was widely known as the cause of the lifestyle-related diseases now.
In our clinic, the main treatment is using oral appliances (mouthpiece) in cooperation with respiratory medicine and otolaryngology. In some cases, the surgical treatment of maxillomandibular advancement is performed.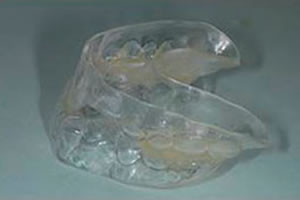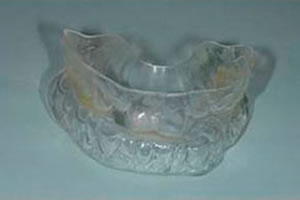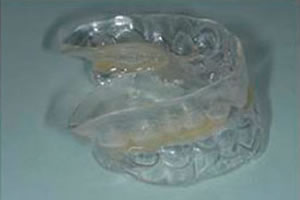 Clinic of Tooth Transplantation
Tooth autotransplantaion is one of several useful treatments to solve occlusal problems after tooth-loss. The patient is satisfied with natural chewing feeling, when the periodontal tissue is regenerated. The operation is performed with local anesthesia. The operation can also performed under sedation method, to eliminate the patients' anxiety.